Looking for Tips for Buying a Condo With Your Partner? Make sure to read this article before you do!
Downtown Vancouver Condos for Sale are in high demand, and as such – are an excellent investment choice to make with your partner. However, knowing these 'Tips for Buying a Condo With Your Partner' before moving ahead, will help to minimize your stress and maximize your outcome.
Get on the Same Page Before Starting a New Chapter
Starting a new chapter in life is usually filled with positive anticipation when buying a condo with your partner. But in order for positive vibes to flow within the difficult arena of home buying, it is important to ensure you and your partner are on the same page.
When looking at Downtown Vancouver Apartments for Sale, precision is paramount. So knowing your joint factors, before factoring in a real estate agent, will allow your agent in finding a space that is right for both parties involved.
This includes but is not limited to…
Important must-haves in your Downtown Vancouver Condo
Understanding your available budget, including a pre-approved mortgage and future income fluctuations
Knowing what neighbourhood in the downtown region you both want to live
Discussing whether you want a newly constructed Yaletown Condo or West End fixer upper
Having a clear understanding of what you both want will help your agent find you Downtown Vancouver Condos for Sale that are right  from the get-go. This leaves the task at looking at condos that don't fit your criteria off the table. In doing so, it will get you into the right space much more quickly!
"love is …buying your first home together" – Andrew Szalontai
Figure Out Your Finances to Safeguard Against Financial Pitfalls
Purchasing a condo in Vancouver will likely be one of your best decisions. But in order to do so, you need to figure out your finances and uncover what you can each contribute to the mortgage. As well, be sure to sit down with your bank in order to get your pre-approval stared. This will provide you with the information your agent needs to find you suitable condos, and ensure your investment is affordable with fluctuating life happenings.
Find an Agent Who Knows the Downtown Vancouver Condo Market
If Downtown Vancouver Condos are of interest to you, finding a real estate agent that is familiar with the area will be paramount to a successful outcome. As an agent who both represents Downtown Vancouver Apartments for Sale, as well as lives in the heart of Yaletown – I am well prepared to make your buying dreams a reality!
Be Ready to Act in Buying a Condo With Your Partner
The Vancouver real estate market is a hot buying stage and you need to be ready to act. If not, it is likely your dream home will be purchased while you're still in decision mode. So if you are truly looking to buying a condo with your partner, be prepared. Acting quickly when you know you have found your dream Downtown Vancouver Condo for Sale is vital to your purchase.
Similar Blogs for Your Consideration
Don't Forego Any of the Details – It's All About the Details
Whether we're talking about a successful relationship or a successful condo purchase, your success is usually tied up in the details.
When it comes to Buying a Condo With Your Partner – this includes a home inspection. Although some might wish to forego an inspection, it is always highly recommended if you are purchasing a Downtown Vancouver Apartments for Sale. Whether the condo pre-date the Olympics, or was around during Expo '86 – newer and old alike deserve a once over. This will help your peace of mind, as well as to ensure you are buying a condo that will serve you and your partner for may years to come!
Removing as much stress as possible from the difficult task of home hunting, especially when buying a condo with your partner, will make for a smooth transition in the years to come, and have you thriving in your new environment before the New Years' confetti even settles.
Allow me to walk you and your partner around the various Downtown Vancouver Condos for Sale. Whether you are both first time buyers, or you're embarking on a final retirement home together, I am here to make the process an enjoyable one!
[su_note note_color="#a2afd7″]Sales of apartment properties reached 1,508 in November 2017, a 25.7 per cent increase compared to the 1,200 sales in November 2016. The benchmark price of an apartment property is $648,200. (source: www.REBGV.org)[/su_note]
Take a Look at the Newest Listings for All of Downtown Vancouver Condos
Take a Look at Stats for Vancouver West and Vancouver East
If you'd like more detailed information in your area, reach out to me below and i'll be in touch.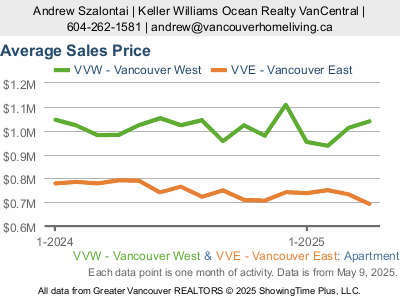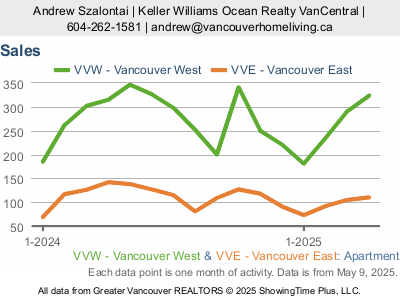 Get in Touch with Andrew Now... Quick and Easy!