Choosing a Vancouver Condo as a Retirement Space
Choosing a place to call home for your retirement years can be a difficult decision. Which is why I want to discuss the idea of Choosing a Vancouver Condo as a Retirement Space; offering buyers both a convenient location and an ideal real estate investment in Vancouver!
Retiring from work can be one of the best times of your life. While you may retire from a job never retire from living life to the fullest! – Andrew Szalontai
The Convenience of Vancouver Condos Downtown
As a retiree, you probably just completed a lifelong career, raised a family, and perhaps are anticipating becoming a Grandparent. So finding a house to call home that offers convenience and a simpler lifestyle is something you are likely looking for.
Whether you want to spend your golden years traveling, or end the responsibility of home maintenance, Retirement Vancouver Condos is an ideal choice.
In addition to minimizing the maintenance of a traditional house, you also have peace of mind that comes with Vancouver Condos Downtown. Many condos offer concierge services in Coal Harbour, or provide security parameters in Yaletown. As such, you will feel confident that you can leave for a week, a month, or an unknown amount of months. Retiring in a Vancouver condo could very likely fit your next phase of life, and offer an excellent investment as well.
Retired Does Not Have to Equal Slowing Down
Sure the career is complete, and yes the children are raised, but living an active lifestyle does not have to stop once you're done punching a clock and purchasing school supplies. In fact, many retirees say that life BEGINS with retirement – and so it should!
This time is all about enjoying your community, surrounding yourself with friends and activities you adore. Perhaps that involves regular access to the sea wall and the many activities you can find there. Or maybe you wish to be in walking distance to a community centre, gym, shopping, or local coffee shops and amazing eateries. Condos For Sale in Downtown Vancouver are full of all these things and more.
Similar Blogs for Your Consideration
Continuing Your Career with Condo Living in Vancouver
Leaving a career you love can be difficult when retiring. But in this modern age of mobile offices and of-site work places, you don't necessarily have to retire. Choosing a Vancouver Condo as a Retirement Space can help with that!
Have discovered that not having a regular routine filled with daily tasks has you bored? Living in the core of Vancouver can provide you with endless opportunities.
Many companies look for consultants who can help them with business processes from all industry types. As such, living in an area that offers you the ability to set up shop could provide you with the ability to continue on with the type of business you love!
Vancouver delivers many opportunities – from work to play, shopping to dining, relaxing to exploring. And as a resident of Downtown Vancouver, I would love to show you how your retirement could look here. Whether as a Real Estate Investment in Vancouver, Choosing a Vancouver Condo as a Retirement Space, or simply a new space to call home. Downtown living is safe, convenient and exciting, while offering endless opportunities!
[su_note note_color="#a2afd7″]Sales of apartment properties reached 1,508 in November 2017, a 25.7 per cent increase compared to the 1,200 sales in November 2016. The benchmark price of an apartment property is $648,200. This represents a 23.9 per cent increase from November 2016 and a one per cent increase compared to October 2017. (source:
REBGV
)[/su_note]
Other Benefits of Retirement Vancouver Condos
In addition to the convenience of living in the city, the various activities readily available outside your doorstep, the investment factor, and the freedom to securely come and go, there are other benefits to Retirement Vancouver Condos that include:
No landscaping required – yard work free living
Exterior repairs such as roof maintenance, painting the house, paving the driveway, shoveling the walk – are no more
Plumbing problems such as freezing pipes become a "them" issue
The freedom to travel without worries of theft
Ability to rent out your space to a student or other short-term stays within the guidelines of your condo  
Truly, Downtown Vancouver Condos for Sale deliver a big return for those who invest in them, and not just financially.
I am certain you will quickly discover a community of like-minded people within your new dwelling. From meeting in the elevator, conversing at the pool or striking up a friendship at one of the events often hosted for residents of downtown condos. Choosing a Vancouver Condo as a Retirement Space is something you will want to consider.
If you are a baby boomer ready to relocate to a retirement condo in Vancouver – I am here to help you make the transition, and am confident you will be ecstatic about your decision!
Take a Look at the Newest Listings for Coal Harbour Vancouver Condos
Take a Look at Stats for Vancouver West and Vancouver East
If you'd like more detailed information in your area, reach out to me below and i'll be in touch.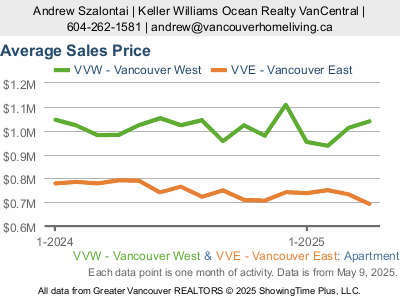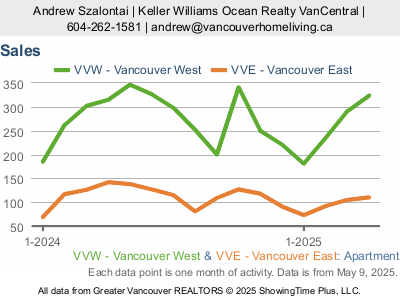 Get in Touch with Andrew Now... Quick and Easy!