Investing in a Downtown Vancouver Condo comes with a variety of costs and lifestyle considerations, which is why I want to help you understand what you need to know about Real Estate Buying Costs. Find to more below, with this comprehensive list of costs to help you make your buying decisions easier!
Real Estate Buying Costs
Mortgage Application Fees
Depending on your lender, they may charge you a mortgage application fee. Which is why you should ensure you ask if this fee is included before agreeing to a lending institution.
Mortgage Insurance Fees
If you are paying less that 20% down on your mortgage, the federal government will require you to buy insurance. This is to protect your lender against the risk of defaulting on your mortgage.
Mortgage insurance fees vary greatly, ranging in cost from .6% to nearly 4%. After the percentage is decided on, this fee is then added to the mortgage principal.
Also, homes valued at over a million dollars will always require a 20% down payment and are not eligible for mortgage insurance.
"Price is what you pay. Value is what you get." – Warren Buffett
Home Inspection Fees
Clients are always advised to have their home inspection completed before buying Real Estate in Downtown Vancouver. This a straightforward process that involves an inspection of the condition of the home and includes such things as:
mold inspection
structural inspection
plumbing inspection
electrical inspection
insulation inspection
and roofing inspection as needed
Home Inspection Fees normally costs between $450-$700, depending on the size of the home.
Land Survey Fees
Some lenders require your property to be surveyed before a mortgage approval, and this will cost you around $500 + GST.
Appraisal Fees
There are lenders who also may require a property appraisal before they will approve your mortgage. Although some might cover this cost in hopes of receiving your business, if they don't – the fee is around $300-$450 + GST.
Goods and Services Tax – GST, Provincial Sales Tax – PST
When Buying a Downtown Vancouver Condo, new developments will charge 5% GST. There are variable rebates involved for the GST paid, which you can find out by clicking here!
PST is usually only paid on your legal and notary services, along with GST as well. Find out more about Real Estate Buying Costs by using tax calculator here!
Property Transfer Tax – PTT
This fairly new tax was implemented for homebuyers in BC, and is charges at a rate of 1% for the first $200,000. After which, a 2% PTT is implemented up to $2-million. Homes with a remainder of over $2-million are charged a PTT of 5%.
First time homebuyers may be exempt from paying PTT if the purchase price of their Real Estate in Downtown Vancouver is less than $475,000. As well, a partial exemption of the PTT if the purchase price is between $475k-$500k; beyond that there is no exemption.
Qualifying homebuyers of new homes may also be exempt from PTT if the purchase price of their home is less than $750,000. In addition, partial exemptions are also considered for homes up to $800,000. There is no exemption past that, however. This online PTT and GST calculator will help you with your expenses.
Property Taxes
July 4th is the deadline for paying property taxes. Depending on the time of the year when you purchase your property, the buyer may be required to reimburse the seller for a portion of the property taxes paid. The day you take possession of your property is the day you start paying for your property taxes. Your lender may require this to be added to your monthly mortgage payments.  More details about these specific Real Estate Buying Costs can be found here!
Similar Blogs for Your Consideration
Utility Hookup Fees
Real Estate Buying Costs also involve hooking up your gas, water, hydro, cable and phone. Granted, for those moving into a Condo For Sale in Downtown Vancouver, things such as gas are often included in your strata fees.
Life Insurance on Your Mortgage
Life insurance on your mortgage is sometimes required by a lender also, and it is a good idea for buyers to have regardless. This type of insurance will pay off the balance owing on your mortgage in the case of death or permanent injuries, and is well-worth the investment.
Liability and Fire Insurance, Home Insurance
Purchasing home insurance (which includes liability and fire insurance) is also a common requirement of lenders. This is required on the date the purchase is completed for your Vancouver Condo, and should be added to your Real Estate Buying Costs.
Notary Public and Legal Fees
When buying a Downtown Vancouver Luxury Condo, or any other property, buyers will hire either a lawyer or Notary Public. However, either one of these professionals can help you draft up the paperwork needed to secure a property transfer.
In particular, fees include such things as:
Property title search
Land registration fees
mortgage registration
Together, these fees are around $1200, including what the lawyer or notary charges for their time.
Moving Fees
In addition, other cost to consider are moving fees. These cost will depend on how far you have to move and whether you're hiring movers, in contrast to simply moving it all yourself.
Strata Maintenance Fees
Which leads me to – strata maintenance fees, which are paid at the beginning of the month. However, your realtor will know more about the details of such strata fees for each Condo for Sale in Vancouver.
Lock Replacement Fees
When you purchase a Downtown Vancouver Condo for Sale, it is a good idea to have the door locks rekeyed or replaced. On one hand this might seem like an unnecessary added cost, on the other – peace of mind is likely worth it.
Commission Fees
Lastly – commission fees. While it is true that the cost of hiring a realtor will pay off in ways one might not be aware of; each may differ slightly. As a Real Estate Specialist in Vancouver, my real estate services come with comprehensive knowledge of the area and the condos within it.
Any fees paid for your purchase are done so after the owner transfer is complete. As well, these fees are paid through the lawyer or notary Public. These fees are paid by the seller, who has agreed in advance on the price of what each realtor will receive in commission.
In addition, all commission fees are agreed upon before any transaction processes. All of which I would be happy to discuss with you when helping you uncover the right Vancouver Condo for Sale for your lifestyle needs, assisting you through all your real estate buying costs and ensuring your experience is a positive one throughout!
Take a Look at the Newest Listings for Yaletown Vancouver Condos
Take a Look at Stats for Vancouver West and Vancouver East
If you'd like more detailed information in your area, reach out to me below and i'll be in touch.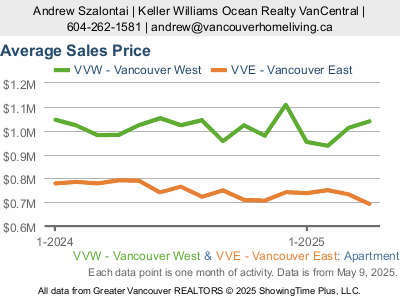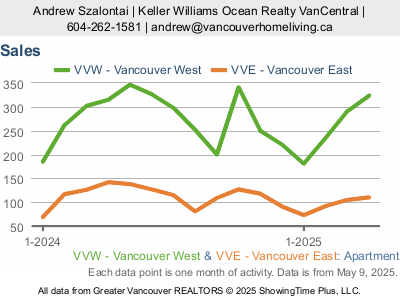 Get in Touch with Andrew Now... Quick and Easy!