Vancouver has been ranked as one of the top most beautiful and livable cities in the world. There are so many reasons to buy real estate in Vancouver, you'll fit right in to one of Vancouver's styles.
Allow me to help you with your buying decisions, by presenting you with some Vancouver Facts:
Vancouver has a core population of 600k
The metro-population of Vancouver is 2.4 million
Vancouver offers mild temperate seasons
One of the cleanest cities in the world is… Vancouver!
A Reason to Buy in Vancouver is the Proximity to the USA Border
Driving to Vancouver, it's a short 45-minute drive from the American border, so it delivers quick access to cheap and convenient get-away via Bellingham, or day trips to Seattle.
Mastering the One Thing will Achieve Extraordinary Results – Gary Keller
Activities in Vancouver
As a coastal city, Vancouver offers all forms of sea-to-sky activities. From sailing in English Bay during the summer, to snowboarding in Whistler over the winter, or hiking the Grouse Grind in the spring and fall, there are a myriad of activities year-round in world-renowned locations.
Cultural Diversity in Vancouver
Vancouver delivers a range of ethnic diversity, with 700k people speaking an additional language besides English, it is a very cultural city in which to dwell. No matter which community you choose, there is a sense of belonging regardless of your ethnic background, religion, or sexual orientation.
Shopping in Vancouver
In Vancouver, some of the world's most top recognized brands are offered, and delivers both high-end fashion, as well as local designs embraced widely by locals and the global community.
World Class Education in Vancouver
Vancouver's education options are also world-renowned. From Universities such as The University of British Columbia (UBC), to Simon Fraser University (SFU), and The BC Institution of Technology (BCIT) …all of which students come to from around the world to study at.
Private Schools in Vancouver
Or if you have school-aged children and prefer private school, there are several options that are well worth the investment dollars and highly ranked:
York House, Vancouver
Crofton House, Vancouver
Little Flower, Vancouver
Southridge, Surrey
St George's, Vancouver
West Point Grey, Vancouver
Vancouver College, Vancouver
Meadowridge, Maple Ridge
Collingwood, West Vancouver
Similar Blogs for Your Consideration
Vancouver's Public Schools
Alternately, public schools in Vancouver have a great reputation and offer programs in both French and English, as well as gifted and specialized schools and distance education programs. There are 21 elementary schools, 6 middle schools and 5 high schools. Offering alternative or specialized programs, we have the Vancouver School of Arts and Academics as well as the Vancouver iTech Preparatory.
A few of Vancouver's public schools:
University Hill, Vancouver
Lord Byng, Vancouver
Sentinel, West Vancouver
Rockridge, West Vancouver
Prince of Wales, Vancouver
Langley Fine Arts, Fort Langley
So although Vancouver may be one of Canada's most expensive cities in which to buy, comparatively it is also the most profitable in which to sell. Add to that the above list of livable perks, and you have found yourself a city you will definitely want to call home – or just take advantage of the amazing features we've highlighted and purchase real estate in this hot market with the peace of mind that you can easily sell your home or condo in one of the most livable cities in the world!
Take a Look at the Newest Listings for All of Downtown Vancouver Condos
Take a Look at Stats for Vancouver West and Vancouver East
If you'd like more detailed information in your area, reach out to me below and i'll be in touch.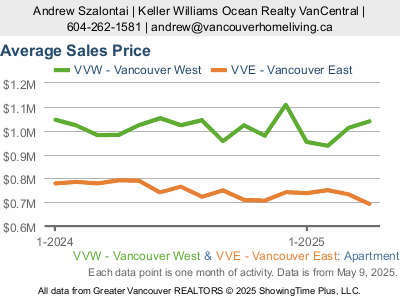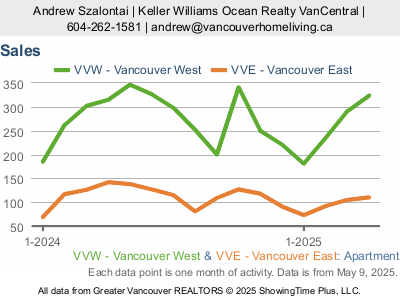 Get in Touch with Andrew Now... Quick and Easy!