Living in one of the most beautiful cities in the world seems like an ideal career move and/or lifestyle change. Whether you are changing careers, being transferred for your career, or simply looking for a lifestyle change; Vancouver, BC is the ideal choice in which to do so.
I am here to help you minimize stress and maximize excitement when  'Relocating to Vancouver for a Career or Lifestyle Change'!
First …You Must Find a Job in Vancouver
If you are not transferring through your current employer, finding a job in Vancouver is step #1.
Thankfully, Vancouver has picked up the unemployment slack year after year, and with many industries – such as Amazon – looking to invest their dollars in the BC economy, finding a job is becoming a lot easier.
In addition, there is an onslaught of jobs that pertain specifically to the climate in Vancouver and outlying communities, which involve a lot of outdoor positions, restaurant careers amidst thriving dining destinations, and well as professional career options that can be found through agencies that abound in Vancouver.
Depending on your career of choice when looking to relocate to Vancouver, you can utilize employments portals such as:
Craigslist
Indeed
Workopolis
Monster
ca
ca
com
ca
ca
Recruiters
…as well as BC Government sites
Mastering the One Thing will Achieve Extraordinary Results – Gary Keller
What To Do Day 1 After Landing a Job in Vancouver
After you are hired by your chosen employer in Vancouver, they will likely want you to relocate quite quickly – making the next 24-hours after your employment important. Frantically packing and plotting for your new job and home can wait one day. Rather, in the next 24-hour span of time, I encourage you to enjoy your current home, your city, your friends and family, and a day to simply respect the time you have spent at the location you are at, reflecting on how it has lead you onto your next journey into Vancouver!
What To Do Day 2 After Landing a Job in Vancouver
Now that you have given yourself time to appreciate where you have come from, day 2 is the time to anticipate where you are going. Depending on how far away you are moving from, relocating to Vancouver requires some standard moving musts, which include:
Deciding on a moving company and what services you will want to include to make your move manageable (such as packing and unpacking services)
If you are moving yourself, finding willing participants on either end to help you pack and/or move your items
Looking into moving truck companies such as U-Haul, or overseas companies as needed
Finding free moving boxes, which can often be found at liquor stores or cardboard recycling bins at the back entrance to any big box stores
30 Days Before Relocating to Vancouver
Now that you have taken a couple days to adjust to the idea of your new career, and wrapped your head around some moving basics; before you start packing up all your worldly possessions, put aside imperative paperwork. Even with the best of intentions to label and organize like Martha Stewart, things can still tend to go missing. So having your paperwork in order, and in a known location, will help to ease potential moving stress. Put aside imperative paperwork such as:
Cheques (which are still required by many places for deposits etc)
Banking papers
Mortgage papers
Taxes filed in the past 3-5 years
Passports
Voting registration
Lease agreements
Birth certificate and social insurance info (if not carried in your wallet)
And a list of important phone numbers …because, lets be honest, none of us have them committed to memory anymore!
After you have all the imperatives in a safe place, ideally a brightly coloured box that is clearly labeled, begin labeling your other boxes and putting them in the appropriate rooms to begin packing, ensuring you are packing "can live without for 30 days" items so you're not scrambling to find still needed items. Also, as you begin to pack, also begin to purge. Relocating to Vancouver is an excellent time to start fresh, and that means letting go of broken trinkets, old clothes you'll truly never wear again, and large items you're better off selling on Craigslist and replacing once in Vancouver. Remember …we're on this earth to collect memories, not things!
Similar Blogs for Your Consideration
14 Days Before Relocating to Vancouver
You are now two weeks out from relocating to Vancouver, so now is a good time to get your pet ready for the move as well. Whether looking into dog parks (LINK?) in the local Vancouver area, securing pet daycare if needed, or purchasing a new kennel for the move, preparing your pet also plays a big role in a successful more for your fur-family too!
7 Days Before Relocating to Vancouver
Excitement is building with only a week to go before you relocate to Vancouver. But don't let that get in the way or staying focused on the necessary tasks at hand. If you have hired movers, re-confirm the move, your current address, your relocation address, the insurance coverage of your items etc. You would be surprised at the mistakes moving companies can have, so make a list and check it twice to ensure a smooth move to Vancouver!
Relocating to Vancouver – the Day Of
Before jumping on a plane or getting in your car or your moving truck, pause one more time to take some pictures of your soon-to-be past, wander one last time through your neighbourhood, and shake hands with those who have mattered in your journey thus far. In the rush to start a new life, many people regret not taking the time to pause, remember and give thanks. So do this, and help your relocation to Vancouver begin with no regrets! Also, remember to…
Eat! That's right. No skipping meals. Even if you feel too excited or anxious to eat, eating every few hours will keep your energy up and your stress levels down. No one likes a "hangry" human, so whether you're packing a lunch from the local grocery store, or stopping along the way – make it a conscious effort.
Relax! It might sound counterintuitive, but also make sure to take time to relax along your journey. Stop and see the sites. Breathe. Be in the moment and make some memories along the way.
Relocating to one of the most beautiful cities in the world will most likely be one of the best choices you ever make. If you are looking to enhance that choice and purchase a condo in Vancouver to call home, I am here to help! I can also assist in the relocation process, and streamlining your move start to finish. I look forward to offering you the individualized care you deserve in your relocation to Vancouver, and helping you begin a new life in stress-free style!
Take a Look at the Newest Listings for All of Downtown Vancouver Condos
Take a Look at Stats for Vancouver West and Vancouver East
If you'd like more detailed information in your area, reach out to me below and i'll be in touch.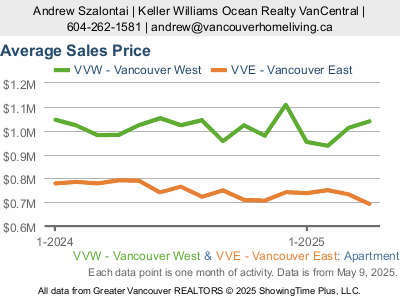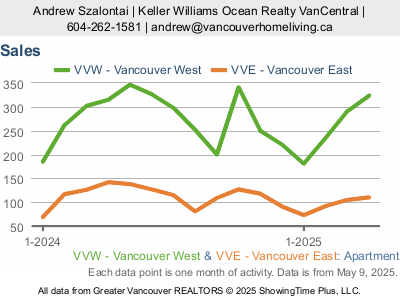 Get in Touch with Andrew Now... Quick and Easy!