Although I offer various buying advice pertaining to Vancouver Yaletown Condos for Sale, these Top 5 Imperative Tips for Investing in a Yaletown Condo surpass them all.
Whether aiming to buy a Downtown Vancouver Luxury Condo for your own personal enjoyment, or choosing to purchase a place to rent out – take a read!
Top 5 Imperative Tips for Investing – Tempering Your Buying Temptations
First time buyers and investors alike can tend to get swept away in the moment. Which is why it's important tempering your buying temptations by finding out what your lender will pre-approve you for.
Deciding between Vancouver Yaletown Condos for Sale can be difficult, so by knowing your budget and not exceeding that by more than 10%, it will narrow your search and keep you on task and on budget.
If life were predictable it would cease to be life, and be without flavour

—Eleanor Roosevelt
Choose a Yaletown Real Estate Specialist
Having a Yaletown Real Estate Specialist work for you will further help lead your Downtown Vancouver Luxury Condo hunt. Whether you are curious about specific condo amenities, strata fees, rental rules, and anything in-between; someone who lives and works in Yaletown is the right realtor for the job.
Click HERE for a Yaletown Real Estate Specialist
Fine-Tune Your Search
Downtown Vancouver Real Estate Listings can be difficult to sift through, but by fine-tuning your search by needs first and wants second, you can land your ideal Downtown Vancouver Luxury Condo quickly.
Important search items include:
Which neighbourhood works best for you (if you are looking outside of Yaletown)
What amenities are most important to you
How many bedrooms work for your immediate and future needs
How many bathrooms will make your purchase comfortable
As well, knowing your non-negotiables will help your Yaletown Real Estate Specialist find the exact condo you want. So make a list, check it twice, and get ready to discover your perfect Vancouver Yaletown Condo for Sale!
Let the Professionals Negotiate
A Real Estate Investment in Vancouver is exactly that; an investment. And many people are usually in line looking at the same Downtown Vancouver Luxury Condo that you are. Which is why knowing your budget, and having that 10% wiggle room, will really help your Yaletown Real Estate Specialist settle the sale quickly. Real estate agents are trained to ensure the sale and purchase of a home is done correctly, and that negotiations are conducted accordingly. From there, a written agreement is created, locking in your offer and securing the purchase of your condo once accepted. Which brings me to my next point…
Similar Blogs for Your Consideration
Get Everything in Writing
When it comes to making a Real Estate Investment in Vancouver, your word is not your bond. You must get everything in writing in order for your Vancouver Yaletown Condo for Sale to be a viable buying option. Not only are buying terms important to have in paper, but also seller's agreements relating to what they have said they are offering in their sale. Whether it's a Fully Furnished Condo, or upgrading the kitchen hardware – pen has to be put to paper for this to be binding.
Lastly, and actually making this my 6th bonus tip pertaining to the Top 5 Imperative Tips for Investing in a Yaletown Condo, is having a home inspection. A lot of buyers forego this when looking at Downtown Vancouver Luxury Condo's for Sale, but don't be that buyer.
As much as "the package" might look pristine, and you want to make the buy before another eager investor does – having a home inspection can be put into the buyers' terms of agreement. This gives you both the time in order to have an inspection, as well as the peace of mind once your inspection comes out clean.
[su_note note_color="#a2afd7″]Sales of apartment properties fell to 1,032 for December 2017. (source: REBGV.org)[/su_note]
Curious about Vancouver Yaletown Condos for Sale? I am a Yaletown Real Estate Specialist who excels at helping buyers and sellers alike close their deals successfully. Allow me to help you purchase the exact condo for your investment or personal buying desires, quickly, efficiently and within the terms that are important to you!
Take a Look at the Newest Listings for Yaletown Vancouver Condos
Take a Look at Stats for Vancouver West and Vancouver East
If you'd like more detailed information in your area, reach out to me below and i'll be in touch.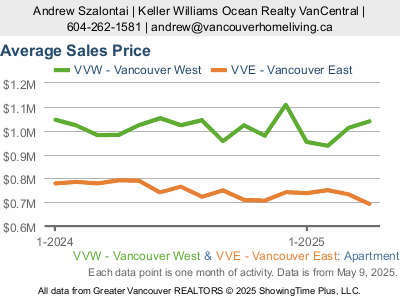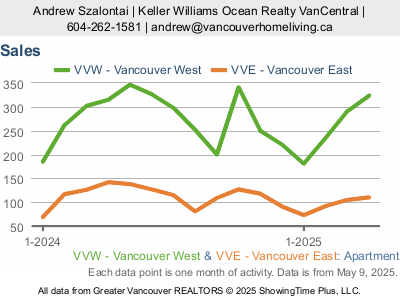 Get in Touch with Andrew Now... Quick and Easy!